Stella

Forest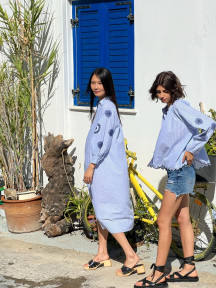 The
Brand
The Stella Forest line, launched in 1998, by Christel Boniface, Artistic Director, and Raymond Bitton, General Manager, is the adventure resulting from shared passions for fashion, world travel, vintage clothing and international art, motifs, and hand-craftsmanship. Designed for a modern woman, romantic and chic, Stella Forest Collections propose inventive, unique pieces enriched by the mixing of cultures, periods, and artisanal textile workmanship. Our exclusive prints are created in our ateliers in Paris. We love proposing mixed silhouettes composed of pieces of ethnic, feminine, and contemporary inspiration.
Stella Forest's collection :
This collection FW22 also presents a great mix of materials with light fabrics such as lageorgette, cotton-silk blend but also thanks to new viscose crepes with a satin finish that will be thicker and therefore bring a more wintery side to our pieces. Without forgetting the overcoats where you will find checks, checks, and draos of virgin wool, but also ecological furs.