Vicomte

A.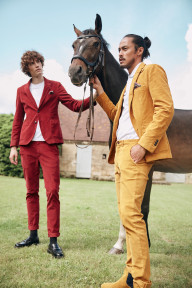 The
Brand
Since 2005, the French brand created by a Viscount cultivates twisted elegance. A unique style mixing perfect fit classics, sportwear, and impertinence. Beyond the colorful polo, a key piece of the collections, Vicomte A. offers a complete wardrobe for men and women who are making fashion, an art of living. Caring about French traditions and know-how, the brand selects noble materials which are matched with colorful and subtle details. Charismatic and inspiring, it goes beyond styles and fashions. While authenticity and modernity can be seen in the collections at a glance, Vicomte A. style is indefinable and this is how we recognize it.
Vicomte A's style :
This season, Vicomte A. rolls down the mountains!
Between wintry, solar, and spicy shades, the brand offers an elegant collection thanks to delicate and stylish colors, noble materials and exclusive seasonal prints. A perfect color palette to confront the winter morosity with style, making the collection resolutely French yet always positive. Quirky but not frivolous, eccentric but always refined.